Kerr-Newman, second order differential equations of motion for a charged particle and photons. Animations by Simon Tyran, Vienna (Yukterez)

This is the english version.  

Deutschsprachige Version auf
kerr.newman.yukterez.net
und
Yukipedia
.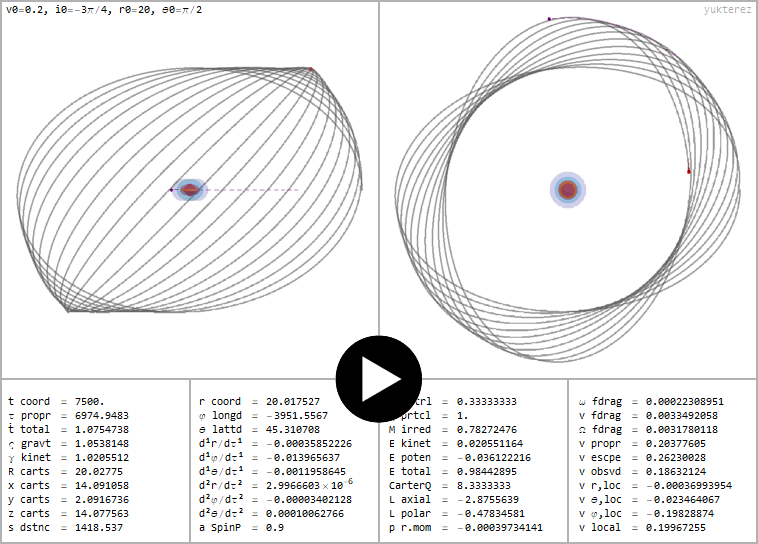 ←
Retrograde orbit of a particle with charge q=1 around a black hole with spin a=√¾ and charge ℧=⅓. v0 & i0: initial local velocity & inclination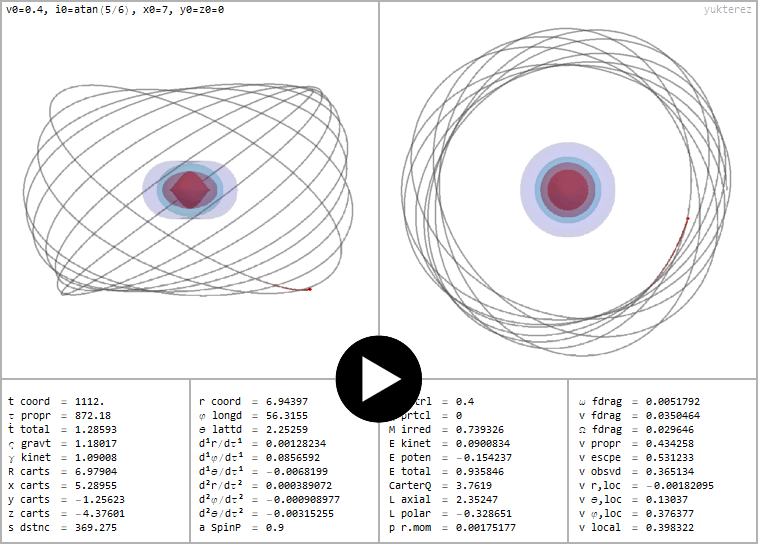 ←
Prograde orbit of a neutral testparticle around a spinning and electrically charged black hole with spin a=0.9 and charge ℧=0.4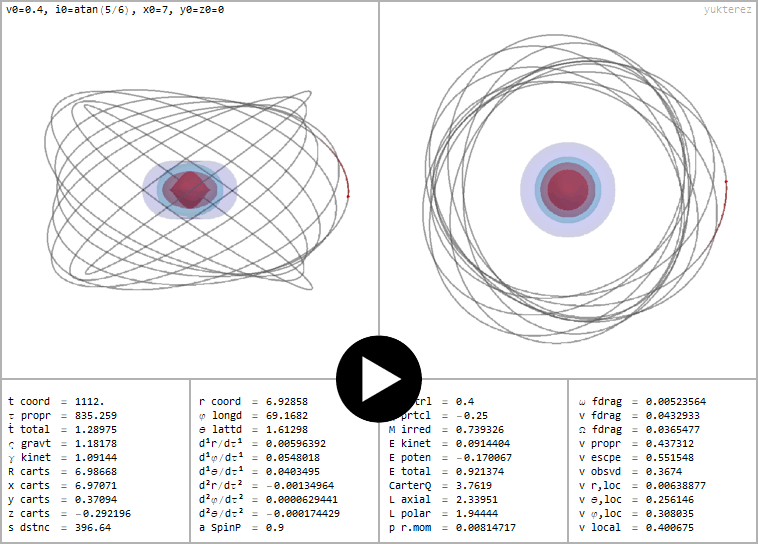 ←
Same initial conditions as above (R0=x0=7GM/c², v0=0.4c, i0=39.8056°=atan(5/6)rad), but with a negatively charged testparticle (q=-¼)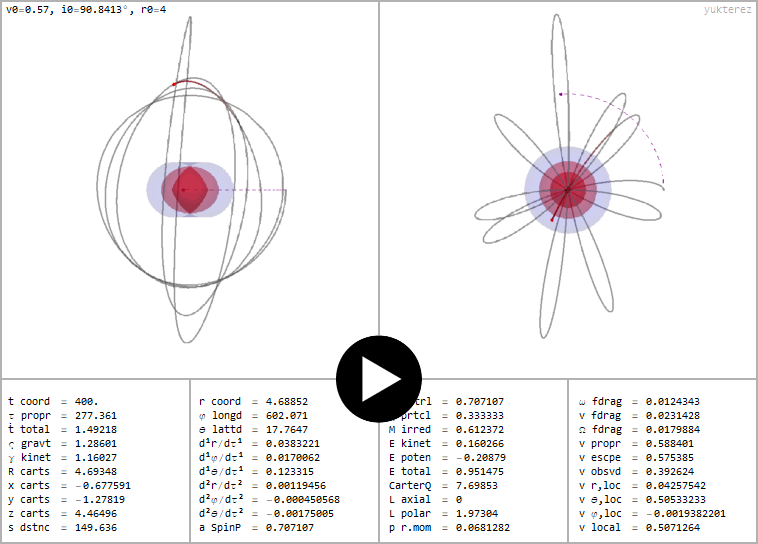 ←
Orbit around a BH with a=√½ und ℧=√½. Particle: q=⅓, Lz=0, Initial conditions: v0=0.57: vr=0, vθ=√(782759/2409750), vφ=-√(6751/96390000)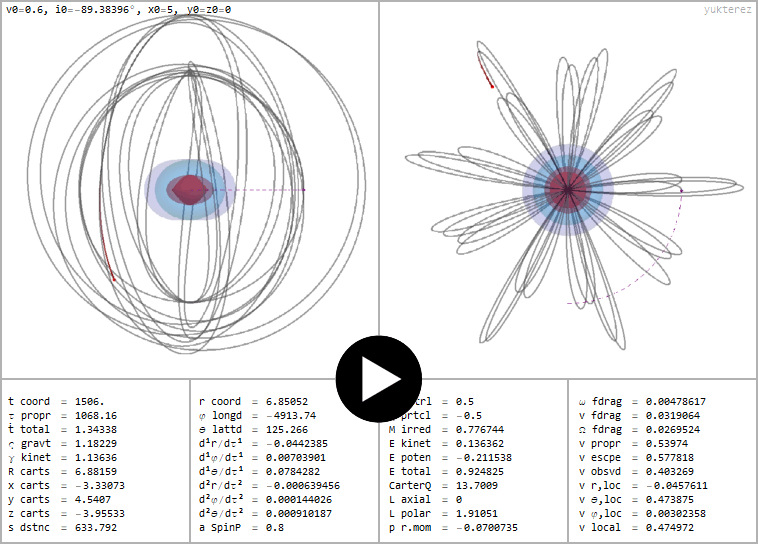 ←
Charged particle orbit; a=0.8 und ℧=½. Particle: q=-½, Lz=0 (note that the local φ-velocity is not 0 despite Lz=0 because q is also not 0)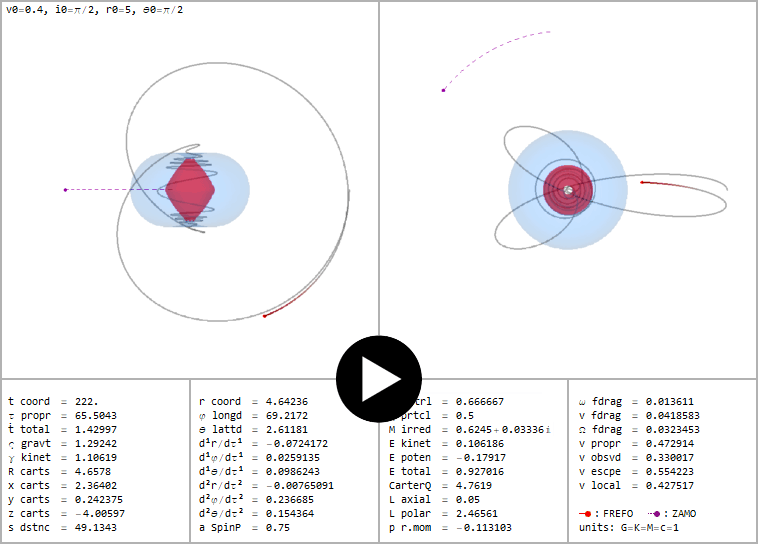 ←
Orbit of a charged particle with q=½ around a naked singularity with a=¾ and ℧=⅔; colored surfaces: outer and inner ergosphere  

  ←
Free fall of a neutral testparticle around a rotating and charged naked singularity with spin a=1.5 and electric charge ℧=0.4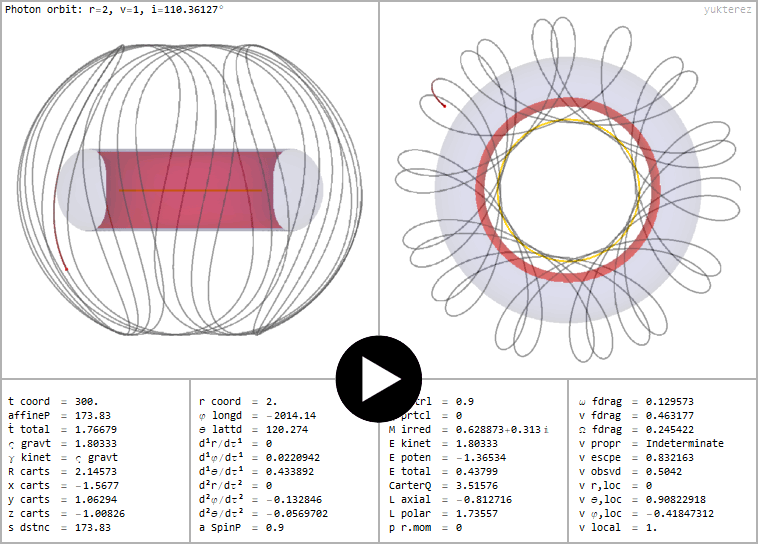 ←
Nichtäquatorialer und retrograder Photonenorbit um eine mit a=0.9 und ℧=0.9 geladene nackte Singularität, konstanter Boyer Lindquist Radius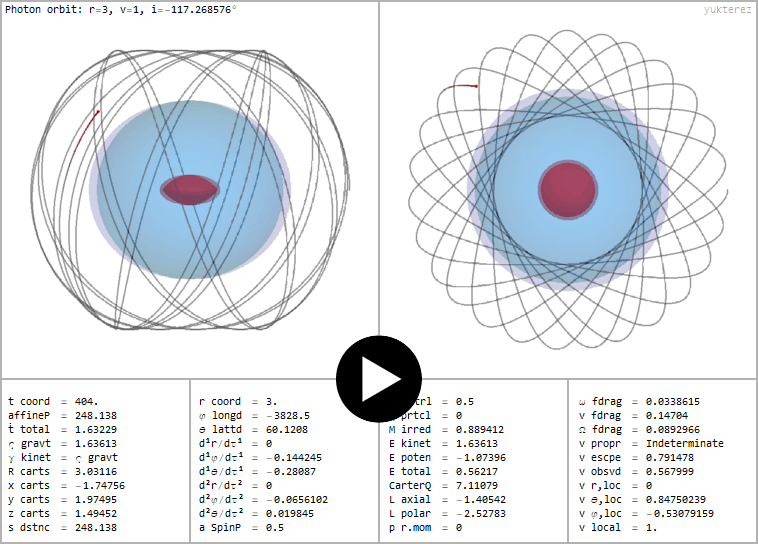 ←
Nonequatorial and retrograde photon orbit around a spinning (a=½) and charged (℧=½) black hole, constant Boyer Lindquist radius    

  ←
Escape of neutral and charged particles from inside the ergosphere, startposition above the outer horizon. v local = v escape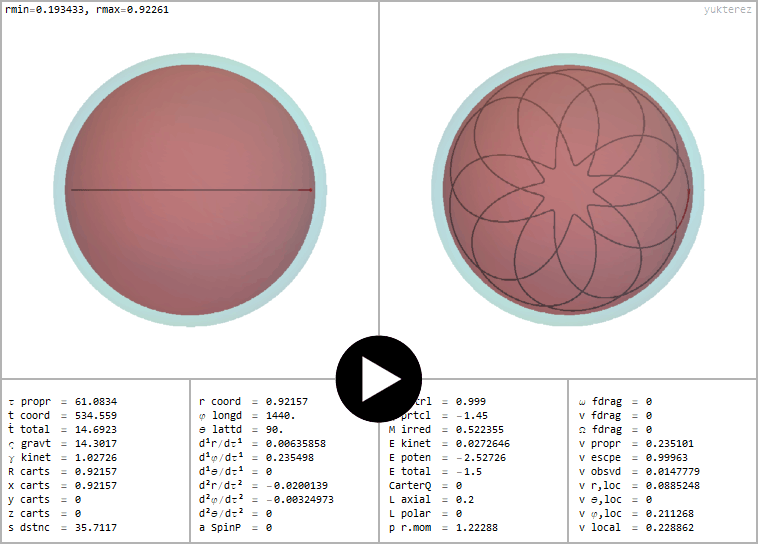 ←
Orbit of a negatively charged particle inside a positively charged Reissner Nordström black hole (also see Dokuchaev, Fig. 1)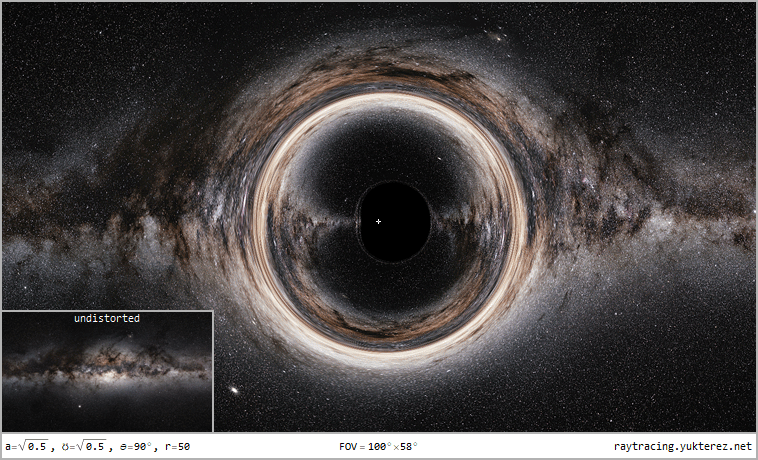 ←
Shadow of an extremal Kerr-Newman BH with a²+℧²=M², Angle of view: edge on. For other parameters see here. Raw material: Commons.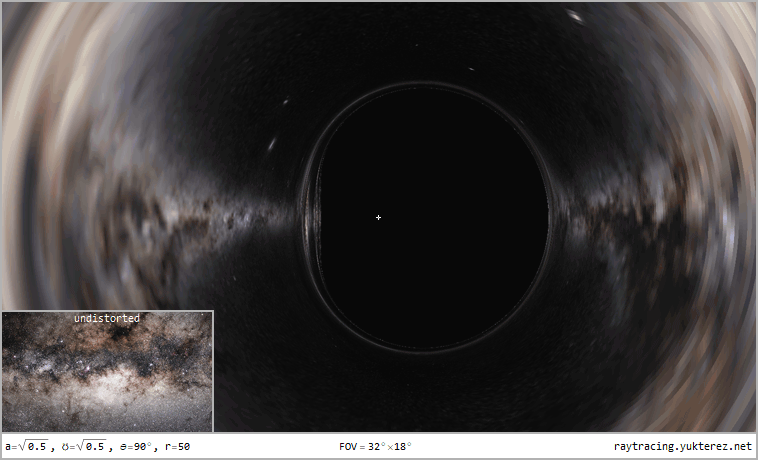 ←
Zoom with overlayed ergoshphere and horizon surfaces. Comparison with an uncharged Kerr black hole: click here